One of the greatest challenges of the twenty-first century is at the core of the MSc in Agro-Environmental Management programme. Nationally and globally there is a need for solutions that combine the increasing demand for food with sustainable management of nature, the climate and the environment.
With an MSc in Agro-Environmental Management, you will acquire a holistic understanding of agro-ecosystem processes and the interaction between agricultural production, nature and environmental management. You will be able to help make a difference by creating win–win situations that address these challenges.
Climate change is a building block
The MSc in Agro-Environmental Management builds on components from four core areas at Aarhus University, providing students with a broad education with specialised skills. We aim to provide a holistic understanding of the environment, nature, climate and agriculture. The broad base ensures that students are taught by leading international scientists within the main study areas.
The programme looks at topics such as nutrient cycling and environmental management; environmental effects of various types of production; xenobiotics; use of natural resources; landscape ecology and biodiversity; geographic information systems; environmental legislation, regulation and administration; nature restoration; and climate change.
These topics are of global relevance. Combined with the considerable Danish expertise and experience in this area, this means that the degree programme attracts students from all over the world. We therefore guarantee that, as a student on the MSc in Agro-Environmental Management programme, you will be challenged and stimulated at both the scientific and social levels. In the course of the programme, each student will be connected with relevant research groups in connection with project work or their thesis.
The MSc in Agro-Environmental Management is open to students with a BSc degree in the fields of agricultural sciences, natural resources, biology, geology or geography. The objective of the degree is to provide the tools needed to assess and apply theoretical and experimental methods and results, so as to clarify relationships in primary agriculture and the interaction with the environment.
Career profile
With an MSc in Agro-Environmental Management you will be well equipped to seek a wide variety of jobs. Graduates have extensive knowledge and interdisciplinary expertise in the areas of agriculture, nature, the environment and climate interactions. This means that there are job opportunities in regional environment agencies, municipal nature conservation offices, agricultural advisory services, firms of consulting engineers, educational institutions, NGOs concerned with nature and the environment, engineering firms, and EU institutions, ministries and other public authorities.
Research is also an obvious career path. Students can apply for admission to the university's PhD programme either after the first year of the MSc degree or following completion of the thesis.
Agricultural Sciences at Aarhus University
The field of Agricultural Sciences at Aarhus University belongs to the elite among agricultural science institutions worldwide and carries out cutting edge research. The core areas of research are: Climate and natural resources, environment and bioenergy, organic farming, food quality, farm animal production and plant production.
Sustainability is a fundamental principle. The goal is to seek solutions that contribute to environmentally and economically sustainable development of the agricultural and food industries.
Agricultural Sciences in the rankings
Agricultural Sciences at Aarhus University ranks 35 in the 2020 US News Best Global Universities Ranking, and 19 in the 2020 National Taiwan University Ranking.
Read, print and be inspired
Download and print a short presentation of the MA programme in Agro-Environmental Management.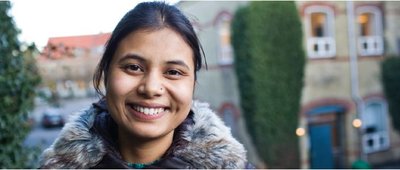 This is a fantastic place to study. It meets all my expectations. I'm enjoying learning about how to manage agriculture and the environment so that the negative impacts can be reduced or eliminated. And the teachers are fantastic. They are so helpful.
Sandhya Karki
Graduate, MSc in Agro-Environmental
Management programme, from Nepal