IMPORTANT DATES AND DEADLINES
Status on letters of admission, scholarship and rejection

All letters of admission to applicants with non-Danish qualifications - including notifications of tuition waiver/scholarship - have now been sent out. Applicants who have not yet received a reply to their application should - with a very few exceptions - expect to receive a rejection letter.

We are striving to send out rejection letters as soon as possible.
Unfortunately, we are experiencing some problems with the application system, which makes it technically impossible for us to send out rejection letters at the moment.
However, before you contact us, we kindly ask you to await the receipt of your rejection letter, as the letter will contain the specific reason why you may have been rejected.
We are very sorry for the inconvenience and the long waiting time.
---
Tuesday 21 May

Deadline for accepting admission offers for all applicants with non-Danish qualifications and ALL applicants to the following Master's degree programmes with restricted admission:
Anthropology of Education and Globalisation
Cognitive Semiotics
European Studies
Human Security
International and Global History
International Studies
Quantitative Economics
The Religious Roots of Europe
Neuroscience and Neuroimaging
STUDENT GUIDES
Study Guide 2013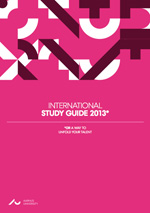 See the 2013 Study Guide here. In the guide you can read all about our Master's and Bachelor's programmes taught in English. 
The International Centre
The International Centre offers a range of services for international students and assistance in all non-academic practical matters. Find us at:
International Centre, Aarhus University
Building 1650 
Høegh-Guldbergs Gade 4 
DK-8000 Aarhus C, Denmark
Opening hours:
Monday through Friday from 10:00 - 1400.
Get Guidance
Still having trouble deciding which degree programme to apply for?
Contact the central counselling here at AU and talk with a counsellor about any general questions. For questions related to a specific programme, you can find contact information for the study counsellor (Studievejledninger) on each programme's web portal. Search for your programme here.